To ensure you get the best bands and the best price we have compilled a database of available acts from all over Ireland and the UK, we can arrange your weekly, monthly or yearly entertainment for your venue at no extra cost. We charge the entertainers not the venues, you deal directly with the artists cutting out agency fees altogether
If there is anything further you would like to discuss, or questions you'd like to ask, then we're only a phone call or email away. After all, that's what service is all about – isn't it?
Rest Assured, No matter what your preference for entertainment Live Entertainment provides the answer. We are dedicated to constant improvement in the performance and presentation of our Artistes, aiming always to deliver a Quality Service in an ever changing market place.
Whatever your requirements we can guarantee a fast, efficient service with highly qualified expert advice. In any event, whatever you decide, we hope your function is an outstanding SUCCESS!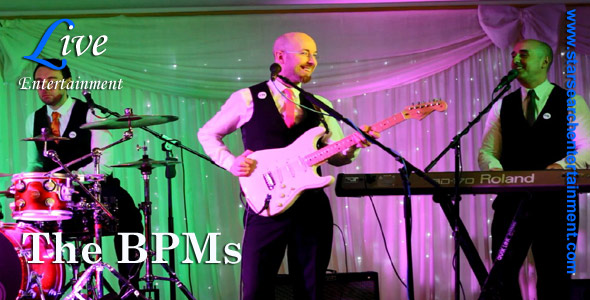 BPMs founding member Steve Cranley, born in Dublin now living in Carlow, began playing guitar at the age of 7 and has many years experience playing weddings, functions and corporate events nationwide.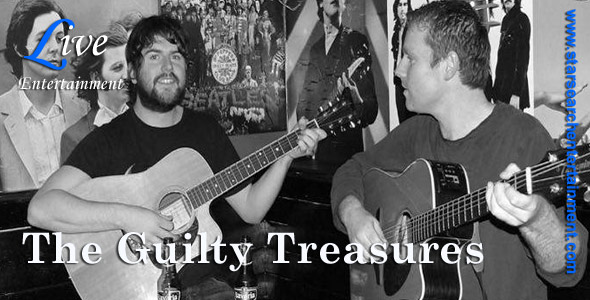 The Guilty Treasures are a two piece acoustic act who have performed in Europe, Australia, USA and here at home in Ireland consistently over the past 10 years.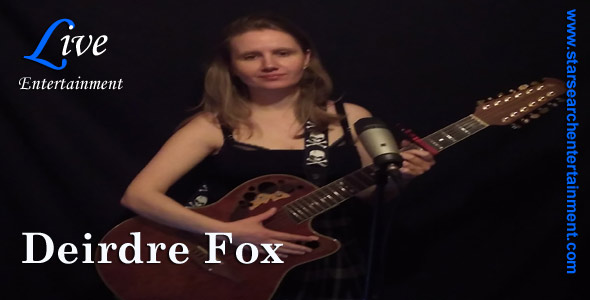 Deirdre Fox is from Cavan originally. She moved abroad and began playing music in Paris in 1998. She worked as a singing waitress in the popular club 'The Hollywood Savoy' in 'La Bourse' area of Paris.
Solo Acts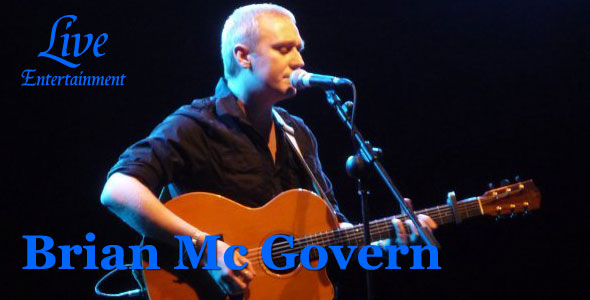 Brian Mc Govern
Brian McGovern is a musician from Kildare. He has spent well over 3,000 hours onstage, received airplay on every major radio station in Ireland, played support slots for and shared a stage with acts as diverse Mundy, Liam O Maonlai, Jack L, Mary Black, Paddy Casey, Neil Hannon, Aslan and Daniel Bedingfield.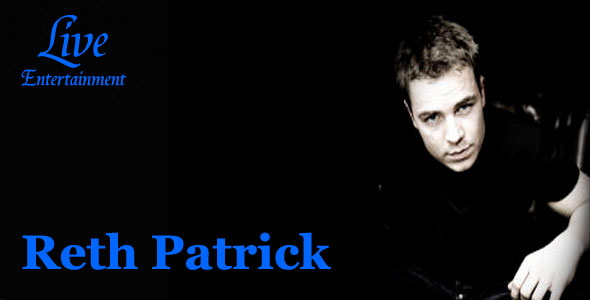 Reth Patrick
Reth Patrick - one man cover act with over 8 years experience, Reth has his own PA (600w) (Vocals & Guitar) and plays popular hits from the 60's/70's/80's/90's/00's.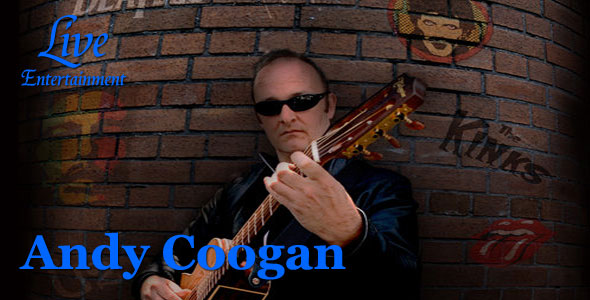 Andy Coogan
Andy Coogan Provides an excellent solo or duo for pub lounges he also has a great live band for bigger venues, his solo gig is lively,fun,lots of banter and open to requests. the duo the same..(andy and john) the live band is a 4 piece (the birthdays)indie/rock/classics.
The Garth Brooks Experience

Origin: Dublin
Genre: Country
Members: 1
Marcus Prouse has been doing his Garth Brooks show since 1998 A well known Country and Western singer in in 2005 he won a country music competition on TG4 called Glor tier.
More Details . .
The Dionnes Motown Tribute

Origin: Dublin
Genre: Motown
Members: 3 - Full Band
Motown/Soul Wedding and Corporate Big Band The Dionnes were formed in 2012 by a group of professional musicians united by a love of Motown.
More Details . .
IE/DC

Origin: Kildare
Genre: Rock
Members: 4
A true gem of the Irish pub rock scene, IE/DC, Irelandís finest tribute to rock legends AC/DC, was formed in 2013.
More Details . .
Made Of Stone

Origin: Dublin
Genre: Pop/Rock, Indie Rock/Alternative
Members: 4
Newly formed "MADE OF STONE" came together because of their mutual love of the Manchester icons the Stone Roses.
More Details . .
Tim Ryan Elvis Tribute

Origin: Meath
Genre: Elvis, Rock n Roll
Members: 1
Tim has been an Elvis Fan all his life, and he could not wait to get on stage where he could go out and perform his Tribute to Elvis Presley.
More Details . .
Zooropa Ireland's U2 Tribute

Origin: Dublin
Genre: Rock n roll
Members: 4
Zooropa has formed a reputation among many to be one of the closest Live experiences to being at a U2 show.
More Details . .
The Birmingham Blues Brothers

Origin: Birmingham
Genre: Soul
Members: 2
The Birmingham Blues Brothers are a fully professional full time Authentic Blues Brothers Tribute, who have been working for many of the Major Agents and clients in the UK and overseas for the past 12 years.
More Details . .